Limousine
>>
Cars by Make
>>
Rolls Royce
>>
1965
Silver Cloud III

1965 Rolls Royce Silver Cloud III Limousine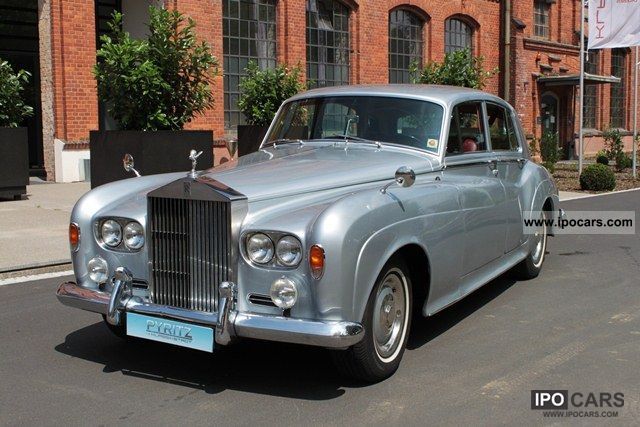 Uploaded by dj-yenot



Model ID
Manufacturer (Make)
Rolls Royce
Model Name
Silver Cloud III
Year
1965
Vehicle type
Limousine / Sedan / Hatchback
TECHNICAL SPECIFICATION
Engine Capacity
6.2L (6230 cm³)
Engine Power
165 kW (224 PS(Hp))
Fuel Type
Petrol
Gearbox
Automatic transmission
Climatisation
A/C (man.)
Door Count
4/5 Doors
Description
The presentation of the Rolls Royce Cloud III was in 1962, almost 50 years ago. He was the most powerful ever built post-war Rolls Royce and verblfte with its acceleration, the former sports car world, though it in-house Rolls Royce Rolls Royce cars Fri neither of these virtues is not emphasized, but the power is always only be described with sufficient. Inquisitive journalists wanted to know then and still have the data measured. In the acceleration to 100 km / h, it was on par with a Porsche Super 90. The only one year later introduced super-Mercedes Type 600 had only 25 hp more and could not do better. Mercedes shone with new technology such as air suspension, hydraulic disc brakes and 4 systems. When Rolls Royce and has behaved conservatively you can experiment with the others once. Thus, the Silver Cloud III 4 drum brakes with his stops as well as the MB 600, but the fading of the Sc, heibenbremsen the wear and noise are alien to him.
 
So overall, the Rolls Royce was on the amount of time and as the last representative of the frame design automotive history, before they surrounded the successor Silver Shadow on self-supporting bodies.
 
This one boasts an excellent state of the art. There is no repair service accumulation. Wood and leather in her vorragendem state. Even the standard built-in U.S. air-conditioning was installed lovingly covered with integrated Luftaustrittsdsen.
 
His American origin from the sun is probably the reason Sdstaaten Fri outstanding body substance. He has probably suffered mssen little rain and never salt. As a left-hand drive, he is something special dar.
 
A fresh HU and the decrease in H-plates are, of course.
 
Changes Irrtmer and subject to prior sale.
Limousine
>>
Cars by Make
>>
Rolls Royce
>>
1965
Silver Cloud III
- Specs and Pictures