Cabrio / roadster
>>
Cars by Make
>>
Mazda
>>
2000
1.9i 140hp Leather Miracle 2HD heater!

2000 Mazda 1.9i 140hp Leather Miracle 2HD heater! Cabrio / roadster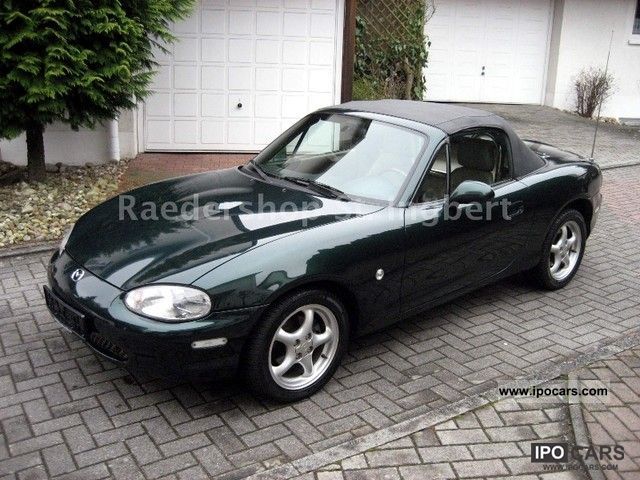 Uploaded by vide



Model ID
Manufacturer (Make)
Mazda
Model Name
1.9i 140hp Leather Miracle 2HD heater!
Year
2000
Vehicle type
Cabrio / roadster
TECHNICAL SPECIFICATION
Engine Capacity
1.8L (1840 cm³)
Engine Power
103 kW (140 PS(Hp))
Fuel Type
Petrol
Gearbox
Manual gearbox
Emission Class
Euro2
Number of Seats
2
Door Count
2/3 Doors
Fuel consumption city
21 MPG (11.2 l/100km)
Fuel consumption highway
34 MPG (7.0 l/100km)
CO² Emissions combined
0.77 lb/mile (218 g/km)
Description
Beautiful and very well maintained Madza MX-5 1.9l Sonderausfhrung in the coveted \In addition, the MX-5 is very well maintained and has the potential to Fri a collector's item. In the most beautiful color combination \And when was ever offered an MX5 with a heater? B>
of course, the MX-5 accident free and very good: b>

B>

B>

Volllleder - Equipment b> li> NARDI - wood steering wheel and shift knob b> li> 6 speed manual b> li> orig. Rims b> li> metallic paint b> li> chrome Überrollbgel b> li> driver - and passenger airbags b> li> ABS b> li> electric windows b> li> electrical mirrors b> li> tinted glass b> li> third brake light b> li> sports seats < / b> li> Servolenkung b> li> Webasto heater b> li> radio stereo with CD b> li> Non smoking Car b> li> 2 Hand b> li> Ausfhrung German b> li> Central b> li> excellent condition b > li> Gnstige funding via the Santander Bank b> li> b> we are happy to take your car into cash b> b> li> b> accident b> b> li> ul>
Cabrio / roadster
>>
Cars by Make
>>
Mazda
>>
2000
1.9i 140hp Leather Miracle 2HD heater!
- Specs and Pictures