Sports car/Coupe
>>
Cars by Make
>>
Maserati
>>
1962
3500 GTI

1962 Maserati 3500 GTI Sports car/Coupe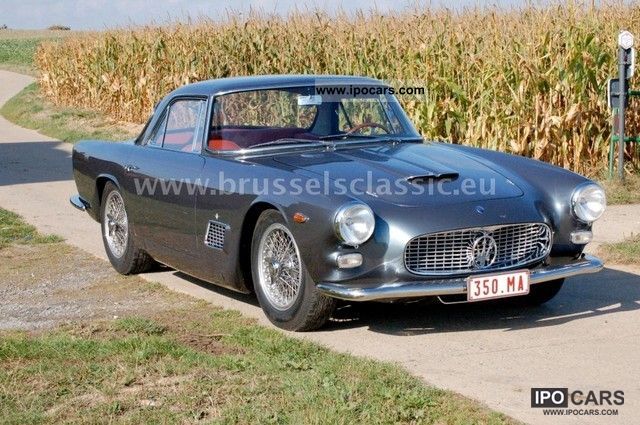 Uploaded by itsuken



Model ID
Manufacturer (Make)
Maserati
Model Name
3500 GTI
Year
1962
Vehicle type
Sports car/Coupe
TECHNICAL SPECIFICATION
Engine Capacity
3.5L (3500 cm³)
Engine Power
162 kW (220 PS(Hp))
Fuel Type
Petrol
Gearbox
Manual gearbox
Door Count
2/3 Doors
Description
Maserati 3500 GTI 1962
 La 3500 GT Maserati marque le passage à une nouvelle de ère, Elle est aujourd'hui particulierement rare car construite à moins de 2000 exemplaires.
La 3500 GT GTI s indirect devient 1962 avec l'adoption de l'injection Lucas. Mais de réglage délicat, cette technique constitué ne pas parler à un proprement progrès. De variety qu'il lui était frequent de l'époque préférer à trois les carburateurs Weber double corps avec la lesquels 3500 GT était nee, c'est le cas de la voiture présentée ici.
 Superb réussite de la carrosserie Touring, une histoire de plus dans une riche en chef d'oeuvres,
 6 cylindres you Dérivé de compétition de la Maserati 350 S, le superbe six cylindres arbres à deux cames en tête et de 220cv double allumage a été étudiéGiulio Alfieri par.
 Cet exemplaire a subit une restauration de très complète professionnelle skin level, on peut même assurer que la definition de la Tôlerie et de l'intérieur est habillage d'un niveau supérieur de ce qu \u0026 rsquo ; il était sortie d'usine à Sat. Elle fut de livery neuve Itakie et du maire de Propriété Naples
 La voiture est très peu Roulé depuis Sat total restoration, mécanique comprise, et est dans un état parfait, assurément la plus belle Maserati 3500 GT sur le marché actuellement.
 Immatriculation Belge ................................................ ............................................
 This car is originally one Italian car, it was the ownership of the mayor of Naples.
The car came to Belgium and his new owner start a totally professional and restoration of the car.
the body part for example was made by one of the best bodyshop workshop in England.
The car has been restored with the best standards and certainly with more attention to details than when it was new build in Italy.
The mechanic has also been totally restored and 3 weber carburetors were placed in place of the injection To provide a better reliability.
The system is with disk brakes brakes on the four wheels.
 Belgian registration.
Sports car/Coupe
>>
Cars by Make
>>
Maserati
>>
1962
3500 GTI
- Specs and Pictures