Sports car/Coupe
>>
Cars by Make
>>
Lotus
>>
1964
23 S

1964 Lotus 23 S Sports car/Coupe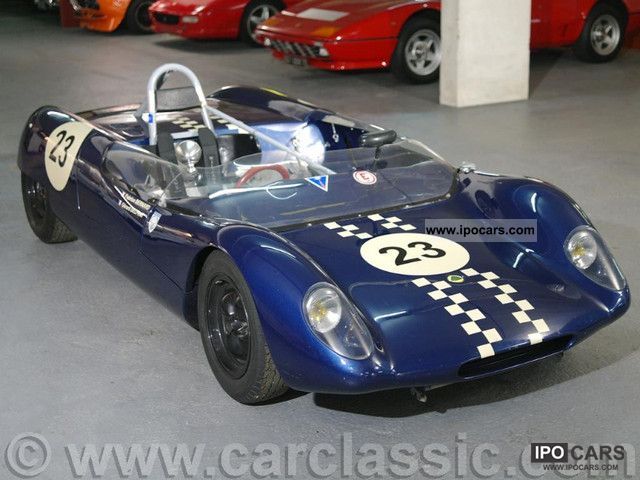 Uploaded by fltn



Model ID
Manufacturer (Make)
Lotus
Model Name
23 S
Year
1964
Vehicle type
Sports car/Coupe
TECHNICAL SPECIFICATION
Engine Capacity
1.6L (1600 cm³)
Engine Power
129 kW (175 PS(Hp))
Fuel Type
Petrol
Gearbox
Manual gearbox
Door Count
2/3 Doors
Description
The Lotus 23 S we are offering for sale is a superb example B in 1964. The 23 B was the Lotus 23's first evolution (a C model was sold in the United States starting in 1965). It was powered by a new 1.558 cc Twin Cam engine. This engine provided approximately 160 bhp at astonishing power for a car weighing in at only kg 480th
 This Lotus 23B was delivered new to the United States to Eric Anderson, who entered the car in the USRRC Pacific Raceways USA race in 1966 (DNF) and 1967 (DNF) as well as in the ACCS Westwood Motorsport Park events in Canada in 1966 ( 12th) and 1967 (DNF).
 This Lotus 23 B came back to the U.K. during the 1970s and entered several events in the 1977-1984 period including, in 1983-1984, driven by Stephen Mitchell. Subsequently sold to Willy and Patrick Behar Widar of London, it then sold to Patrick Lansard, Jean-Pierre Mondonnet (1985), then to Robert Sarrailh in 1993.
 Under his ownership, the car was the object of a true nut and bolt restoration in 2002-2004 and fittedwith a 63-liter tank. From 2006, the car was sold to the current owner. The car was entered in the Historical Endurance challenge the next three seasons. At the end of the 2008 year, the engine was serviced. Then it only Participated in 4 sprint races since.
 The transmission and clutch were also recently serviced. Under the current ownership, the car was serviced by Lotus specialist garage Ruphil. Thanks to this meticulous maintenance, this Lotus 23 B proved to be an extremely good and reliable performer. In all of the races entered by the current owner, this Lotus 23 outran its siblings and finished every race.
 This Lotus 23 B is in race-ready condition and can be used for the complete season endurance before the next service.
 Delivered with its HTP up-to-date paperwork, this Lotus 23B is immediately available in France. The sale includes a set of spares wheels with Avon tires rain.
Sports car/Coupe
>>
Cars by Make
>>
Lotus
>>
1964
23 S
- Specs and Pictures