Off-road Vehicle/Pickup Truck
>>
Cars by Make
>>
Jeep
>>
1948
Jeepster convertible rarity

1948 Jeep Jeepster convertible rarity Off-road Vehicle/Pickup Truck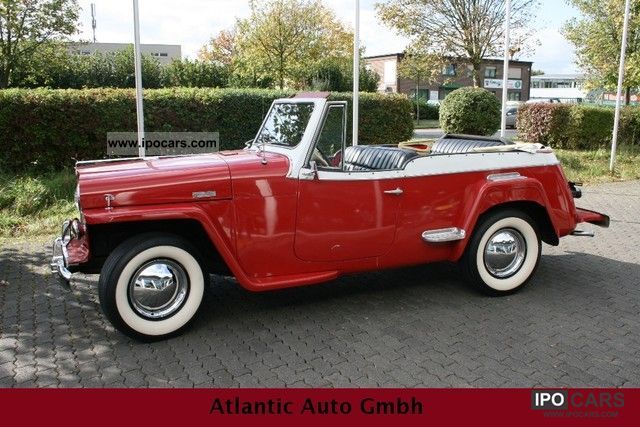 Uploaded by pisklov



Model ID
Manufacturer (Make)
Jeep
Model Name
Jeepster convertible rarity
Year
1948
Vehicle type
Off-road Vehicle/Pickup Truck
TECHNICAL SPECIFICATION
Engine Capacity
2.2L (2200 cm³)
Engine Power
45 kW (61 PS(Hp))
Fuel Type
Petrol
Gearbox
Manual gearbox
Door Count
2/3 Doors
Description
Vehicle in very original Zustand.Perfekte Blechsubstanz.Das vehicle tadellos.An never welded nor primed worden.Frhes model still works with the old front and 4-cylinder Go Devil Motor.Seltene Ausfhrung with 3 speed overdrive technology Gertriebe.Gesamte this car is all original and like it delivered in 1948 wurde.Natrlich ever restauriert.Diese restoration was 10 years ago from a collection in durchgefhrt.Fahrzeug Frankreich.Wir sell the vehicle of course with a new TV, German Zulassung.H.Kennzeichen . Very rare Fahrzeug.Diese vehicles in America have achieved cult status and at auctions proud Summen.Wir have over 20 years experience with U.S. know what it Fahrzeugen.Wir geht.Schönes and außergeöhnliches Fahrzeug.Besuchen us. Always a great selection of rare cars.
Off-road Vehicle/Pickup Truck
>>
Cars by Make
>>
Jeep
>>
1948
Jeepster convertible rarity
- Specs and Pictures