Small Car
>>
Cars by Make
>>
Ford
>>
2006
Ka Sportka/1-HAND/NUR 12TKM GELAUFEN / TOP CONDITION

2006 Ford Ka Sportka/1-HAND/NUR 12TKM GELAUFEN / TOP CONDITION Small Car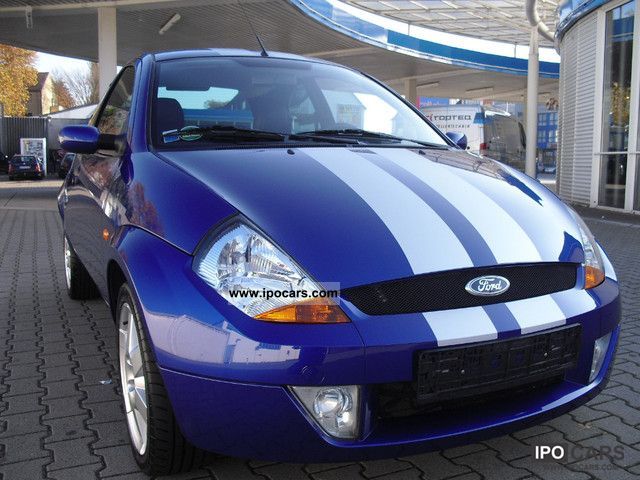 Uploaded by falkoner



Model ID
Manufacturer (Make)
Ford
Model Name
Ka Sportka/1-HAND/NUR 12TKM GELAUFEN / TOP CONDITION
Year
2006
Vehicle type
Small Car
TECHNICAL SPECIFICATION
Engine Capacity
1.6L (1599 cm³)
Engine Power
70 kW (95 PS(Hp))
Fuel Type
Petrol
Gearbox
Manual gearbox
Climatisation
A/C (man.)
Emission Class
Euro4
Number of Seats
4
Door Count
2/3 Doors
Fuel consumption city
23 MPG (10.4 l/100km)
Fuel consumption highway
39 MPG (6.0 l/100km)
Fuel consumption combined
31 MPG (7.6 l/100km)
CO² Emissions combined
0.65 lb/mile (182 g/km)
Description
THIS VEHICLE IS LOCATED IN A VERY GOOD CONDITION-!
IS FROM 1-HAND AND INSPECTIONS ARE ALL IN SEAMLESS SCHECKHEFTGEPFLEGT.DIE A FORD DEALER PERFORMED.
THERE WERE ALREADY 5 - INSPECTIONS CARRIED OUT, THE LAST INSPECTION OF WAR IN March 2011 10660KM!!
IS REALLY IN A NEW CONDITION!
WE COME TO THE EXTRAS:

Sports-ka li> FULL LEATHER IN BLACK AND BLUE DEFIENIERT FEATURES li> AIR CONDITIONING li> 16 INCH ALLOY WHEELS li> FOG li> HEATED FRONT WHEEL li> RADIO-CD PLAYER WITH 6-DOUBLE CD (MODEL 6006E) li> SPOILER li> FROM ALL wheel arches WORK FROM Widens li> 4X HEADREST li> 5-SPEED MANUAL TRANSMISSION li> AIRBAGS li> POWER STEERING li> CENTRAL WITH WIRELESS REMOTE CONTROL li> ANTI-LOCK BRAKING SYSTEM (ABS) li> HEIGHT ADJUSTABLE DRIVER + PASSENGER SEAT li> HEIGHT ADJUSTABLE STEERING WHEEL li> SPLIT BACK SEAT li>LEATHER STEERING WHEEL li> ul> ERRORS AND SUBJECT TO PRIOR SALE!
 
INSPECTION BY APPOINTMENT ONLY!!
Small Car
>>
Cars by Make
>>
Ford
>>
2006
Ka Sportka/1-HAND/NUR 12TKM GELAUFEN / TOP CONDITION
- Specs and Pictures