Cabrio / roadster
>>
Cars by Make
>>
Cobra
>>
1994
AC 427, the original Excalibur movement manufacturing

1994 Cobra AC 427, the original Excalibur movement manufacturing Cabrio / roadster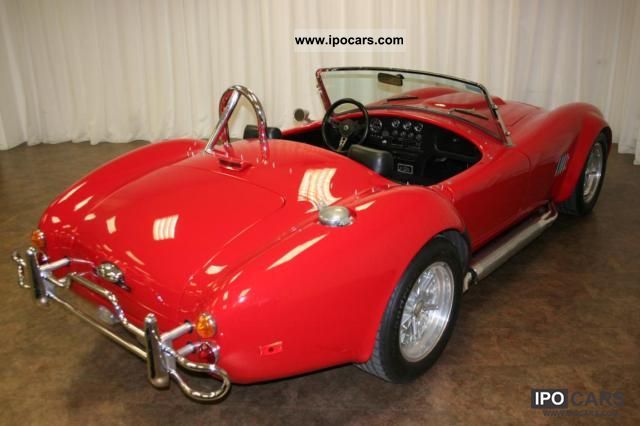 Uploaded by cat-tantk



Model ID
Manufacturer (Make)
Cobra
Model Name
AC 427, the original Excalibur movement manufacturing
Year
1994
Vehicle type
Cabrio / roadster
TECHNICAL SPECIFICATION
Engine Capacity
4.9L (4942 cm³)
Engine Power
168 kW (228 PS(Hp))
Gearbox
Manual gearbox
Description
Separate the Men from the Boys ...

As soon as you start this gives Cobra that we are dealing with a particular sports car. Only a Sidepipe reinforced eight-cylinder makes such a sound. The acceleration is brutal and unfiltered: ESP, ASR, or other electronic aids do not exist. This car fhlt in itself, like a racing car of the sixties and continues that way. Just a tad more comfortable than the Excalibur Cobra has an extended foot and also enabling a 90-meter tall drivers the impressive experience of riding a Cobra. The seating position is surprisingly comfortable, the original Cobra sports seats offer great design, streamline site maintenance. Fired the Excalibur Cobra from a 5-liter Ford V8 from the HO-USA Series. H.O. stands for high output ... Nevertheless, the cobra is environmentally friendly and may, in the city, for two catalysts to help grnen emission sticker.
This AC is Cobra427a factory built, a movement manufacturing of the legendary American manufacturer Excalibur, with its replicas of Mercedes SS was famous. Probably no other manufacturer has as much experience with high-quality replicas like Excalibur, which began in the sixties it. The quality of the Cobra is comparable with the customarily offered no Cobras.
A full canopy with side windows and a plug-divisible cover part of the vehicle.
Cabrio / roadster
>>
Cars by Make
>>
Cobra
>>
1994
AC 427, the original Excalibur movement manufacturing
- Specs and Pictures