Estate Car
>>
Cars by Make
>>
Buick
>>
1955
Special Station Wagon V8 Hot Rod H-Perm combination.

1955 Buick Special Station Wagon V8 Hot Rod H-Perm combination. Estate Car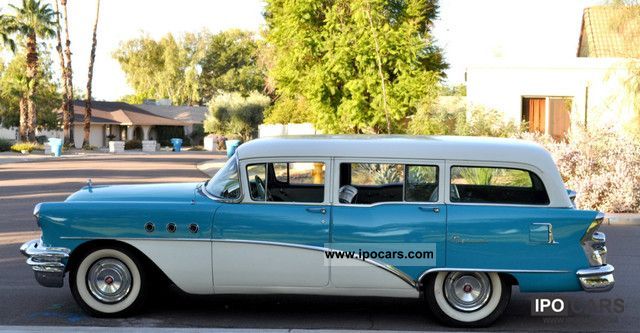 Uploaded by yungerov-yuriy



Model ID
Manufacturer (Make)
Buick
Model Name
Special Station Wagon V8 Hot Rod H-Perm combination.
Year
1955
Vehicle type
Estate Car
TECHNICAL SPECIFICATION
Engine Capacity
4.3L (4278 cm³)
Engine Power
138 kW (188 PS(Hp))
Fuel Type
Petrol, (E10-enabled)
Gearbox
Automatic transmission
Number of Seats
6
Door Count
4/5 Doors
Description
Welcome to Ove Kroeger automobiles. b>
Here I offer a rarity: a 1955 Buick Special Station Wagon 40 series Built in 2975 copies. I bought this vehicle in the dry state of Arizona and also raced there with it. A Buick collector who has a small museum with about 56 vehicles had created, separate from financial Grnden of this and other classic cars. The Gelgenheit for me to purchase a vehicle in Germany probably unique. There are still five roadworthy examples exist worldwide.
The V8 engine runs smoothly and the 2 speed Dynaflow b> twin turbine b> on automatic as it should. The car is completely painted in black on the bottom, after everything was taken apart and cleaned. welding did not take place! and are not necessary. b>
We can make new hand brake cables and assembled and cleaned the brake system and with some Neuteilen provided. The car has received a fresh Inspetion. The Buick gets a fresh H-approval and can be moved into environmental zones. Insurance costs are very low. This is not a $ 60,000 show car but a more honest, more rarely combined.
Here's what the short story:
In 1954, the Special appeared with a completely new three-box body. All FENDER were integrated in the body and the body in the rear doors, there was a small Hftschwung. The windshield was alsPanoramascheibe ausgefhrt. Above all was the new V8 engine from 4326 rpm 1schöpfte cc a power of 143 bhp (105 kW) at 4200th Fri verfgbaren the car with the now fully automatic transmissions, there were 150 bhp (110 kW). From this model year, there was again a 5-Trigen combination. B>
1955, shows the Special b> with a large shark's mouth in front and small rear tail fins. The engine was in constant Hubraum to 188 bhp (138 kW). b>
Also ideal as a company car, as tax deductable. b>
The photos I took in January in Arizona. The light is beautiful :-) The combination is there but here in mittleweile Lbeck. B>
b> p>
Estate Car
>>
Cars by Make
>>
Buick
>>
1955
Special Station Wagon V8 Hot Rod H-Perm combination.
- Specs and Pictures