Cabrio / roadster
>>
Cars by Make
>>
BMW
>>
2011
Z4 sDrive35is with DKG

2011 BMW Z4 sDrive35is with DKG Cabrio / roadster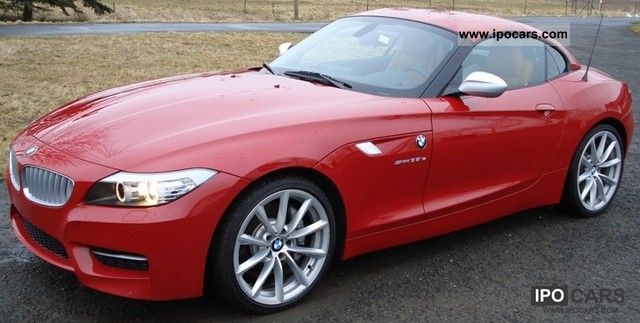 Uploaded by daima-ring



Model ID
Manufacturer (Make)
BMW
Model Name
Z4 sDrive35is with DKG
Year
2011
Vehicle type
Cabrio / roadster
TECHNICAL SPECIFICATION
Engine Capacity
3L (2979 cm³)
Engine Power
250 kW (340 PS(Hp))
Fuel Type
Petrol
Gearbox
Automatic transmission
Climatisation
Automatic air conditioning
Emission Class
Euro5
Number of Seats
2
Door Count
2/3 Doors
Fuel consumption city
19 MPG (12.6 l/100km)
Fuel consumption highway
34 MPG (6.9 l/100km)
Fuel consumption combined
26 MPG (9.0 l/100km)
CO² Emissions combined
0.74 lb/mile (210 g/km)
Description
S1CDA
 BRAKE ENERGY REGENERATION
S2KWA
 LM SPOKE WHEELS V 296/MB
S2PAA
 RADSCHRAUBENSICHERUNG
S302A
 ALARM
S313A
 MIRROR PACKAGE
S387A
 WINDSHIELD
S431A
 INTERIOR MIRROR, automatically dimming
S441A
 SMOKERS PACKAGE
S459A
 SEAT ADJUSTMENT, ELEKTR.MIT MEMORY
S470A
 SEAT ISOFIX ATTACHMENT
S493A
 FILING PACKAGE
S494A
 SEAT HEATING DRIVER / PASSENGER
S4UTA
 DURCHLADEOEFF.M.INT.TRANSPORTSACK
S502A
 HEADLAMP WASHER SYSTEM
S508A
 PARK DISTANCE CONTROL (PDC)
S521A
 RAIN SENSOR
S534A
 KLIMAAUTOMATIK
S544A
 SPEED CONTROL. WITH BREMSF.
S563A
 LIGHTING PACKAGE
S5ACA
 BEAM ASSISTANT
S609A
 NAVIGATION SYSTEM PROFESSIONAL
S612A
 BMW ASSIST
S614A
 INTERNET
S633A
 MOBILE prep. BUSINESS / BLUETOOTH-SCH.
S676A
 HIFI SPEAKER SYSTEM
S8S2A
 CODING ALARM SIGNAL
S8S3A
 AUTO. LOCKING THE APPROACH
S8TLA
 DAYTIME RUNNING FRONT AND REAR ACTIVE
S8TNA
 DAYTIME RUNNING LIGHTS ON SET MENU
S216A
 SERVOTRONIC
S249A
 MULITFUNKTION FOR STEERING WHEEL
S2TCA
 SPORTS GEAR WITH DOUBLE CLUTCH
S2VFA
 ADAPTIVE M CHASSIS
S423A
 FLOOR MATS, VELOUR
S481A
 SPORT SEATS FOR DRIVER / PASSENGER
S4MWA
 INTERIEURL. CARBON ALUMINIUM SHADOW
S548A
 SPEEDOMETER ODOMETER
S715A
 M AERODYNAMICS PACKAGE
S775A
 INDIVIDUAL ANTHRACITE HEADLINERS
S7XAA
 LEATHER STEERING M. + SCHALTWIP. + MULTIF.
Cabrio / roadster
>>
Cars by Make
>>
BMW
>>
2011
Z4 sDrive35is with DKG
- Specs and Pictures