Cabrio / roadster
>>
Cars by Make
>>
BMW
>>
2008
Z4 roadster 2.5si/Xenon/Navigationssystem Prof.

2008 BMW Z4 roadster 2.5si/Xenon/Navigationssystem Prof. Cabrio / roadster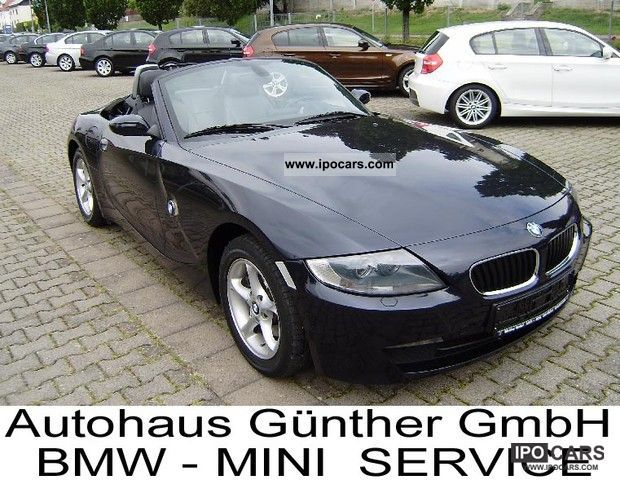 Uploaded by fucalex



Model ID
Manufacturer (Make)
BMW
Model Name
Z4 roadster 2.5si/Xenon/Navigationssystem Prof.
Year
2008
Vehicle type
Cabrio / roadster
TECHNICAL SPECIFICATION
Engine Capacity
2.5L (2497 cm³)
Engine Power
160 kW (218 PS(Hp))
Fuel Type
Petrol
(E10-enabled)
Gearbox
Manual gearbox
Climatisation
A/C (man.)
Emission Class
Euro4
Number of Seats
2
Door Count
2/3 Doors
Fuel consumption city
20 MPG (11.9 l/100km)
Fuel consumption highway
38 MPG (6.2 l/100km)
Fuel consumption combined
28 MPG (8.3 l/100km)
CO² Emissions combined
0.71 lb/mile (199 g/km)
Description
Multi function for steering wheel li> model designation elimination li> alloy wheels star-spoke 102 li> Chrome Line Interior Anthracite li> Hardtop preparation li> windshield li> roof operation fully automatically li> Fine Brushed Aluminium interior trim li> velor floor mats li> < li> warning triangle and first aid kit li> Storage package li> Fri Heated driver and front passenger li> headlight washers li> Park Distance Control (PDC) li> Fog li> rain sensor and automatic headlight control li> Xenon light for low beam and high beam li> Cruise Control li> Navigation system Professional * < / li> HiFi speaker system li> Advantage Package li> Open Air package li> Germany-Ausfhrung li> Dynamic Driving Control li>
sports leather steering wheel li> air conditioning li> white turn signals, custom li> Upholstery: Leather \
up to 24 months CarGarantie b> li> All data without guarantee! If you want we offer a detailed Fri this vehicle to our current leasing and financing terms. Li> Frhjahrsaktion b> Premium Financial Services 4.99% b> fr target funding to 30/04/2012 li> Dear Customers, please call before you visit us directly in order to look at this vehicle, our cars are distributed over two locations. li> Leipziger Strasse 51 63571 Gelnhausen-Hö ; Highest (dealership) li> Leipzig Str.18 63571 Gelnhausen-Roth (Used) li> ul>
Cabrio / roadster
>>
Cars by Make
>>
BMW
>>
2008
Z4 roadster 2.5si/Xenon/Navigationssystem Prof.
- Specs and Pictures