Limousine
>>
Cars by Make
>>
BMW
>>
1999
735i

1999 BMW 735i Limousine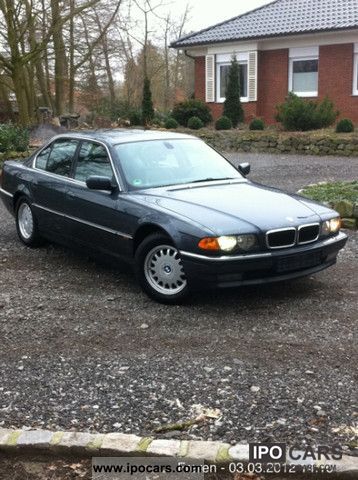 Uploaded by vezdesushaya



Model ID
Manufacturer (Make)
BMW
Model Name
735i
Year
1999
Vehicle type
Limousine / Sedan / Hatchback
TECHNICAL SPECIFICATION
Engine Capacity
3.5L (3498 cm³)
Engine Power
175 kW (238 PS(Hp))
Fuel Type
LPG
Gearbox
Automatic transmission
Climatisation
Automatic air conditioning
Emission Class
Euro3
Number of Seats
5
Door Count
4/5 Doors
Fuel consumption city
14 MPG (17.2 l/100km)
Fuel consumption highway
26 MPG (9.1 l/100km)
Fuel consumption combined
19 MPG (12.1 l/100km)
CO² Emissions combined
1.03 lb/mile (291 g/km)
Description
BMW 735i with a gas system of BRC
 
The car is ready to open but not defects.
He has teitweise Trkanten and rust on the trunk lid.
The catalysts and the Parktronic is defective.
At the rear two links are knocked out.
The central locking system is back on the right has no function.
Pixel errors in the tacho.
Otherwise, you will surely be found scratches and other signs of wear. For this reason, the only vehicle to trade / export is sold.
 
Engine and transmission are Top
There were new front brake discs and pads recently +
rear installed. He also got to have some new wishbones at the front and rear axle.
The winter tires are still very good.
Limousine
>>
Cars by Make
>>
BMW
>>
1999
735i
- Specs and Pictures