Cabrio / roadster
>>
Cars by Make
>>
Austin Healey
>>
1963
3000 MK IIA, 1963

1963 Austin Healey 3000 MK IIA, 1963 Cabrio / roadster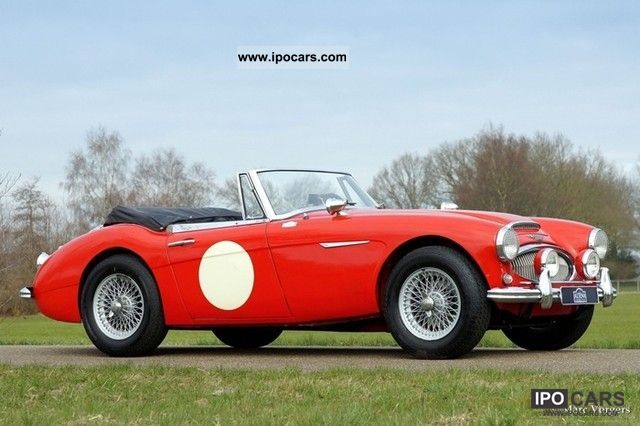 Uploaded by puhova-av



Model ID
Manufacturer (Make)
Austin Healey
Model Name
3000 MK IIA, 1963
Year
1963
Vehicle type
Cabrio / roadster
TECHNICAL SPECIFICATION
Engine Capacity
2.9L (2912 cm³)
Engine Power
96 kW (131 PS(Hp))
Fuel Type
Petrol
Gearbox
Manual gearbox
Door Count
2/3 Doors
Description
Technical data ​​b>
 
 6 cylinder in-line engine
 cylinder capacity: 2912 cc.
 carburettors: 2x SU HS 6
 capacity: 131 bhp. at 4750 rpm
 Torque: 214 Nm. at 3000 rpm
 top speed: 120 mph - 190 km / h
 gearbox: 4-speed manual + overdrive
 weight: 1080 kg.

B>
Information b>

Very rarely do we encounter a
m classic car in as good condition as this Austin Healey. More than 20 years ago this car came from the U.S. and went straight into a collection. The fans wanted to make the car very reliable, but left all the original features as they were. So they are today, in a rarely encountered, beautiful original condition. The body and chassis are then almost unrestored! Even the paint is still 90% original! Well technically had the wherewithal are executed in order to make the car up to date.
 
 We were not allowed EXEC include the following: installing a new wiring harness and carburetor Benzintanks.Die Sunsuch as engine, gearbox were overhauled including overdrive. Of course, the brakes are overhauled, improved and replaced the Khlsystem the Khler. Thereafter, the Owner has used this unique Healey little, why is this still in place in optimum condition. After two decades, the Owner has decided to sell these rare Mk2A and we are especially glad to hierfr drfen looking for a new lover. Someone to appreciate the originality and Purheit combined with reliable technology, know, has this to Healey on Top Car.
Cabrio / roadster
>>
Cars by Make
>>
Austin Healey
>>
1963
3000 MK IIA, 1963
- Specs and Pictures