Estate Car
>>
Cars by Make
>>
Audi
>>
2005
A4 2.0 Avant Climate / LMR / NSW / EFH.

2005 Audi A4 2.0 Avant Climate / LMR / NSW / EFH. Estate Car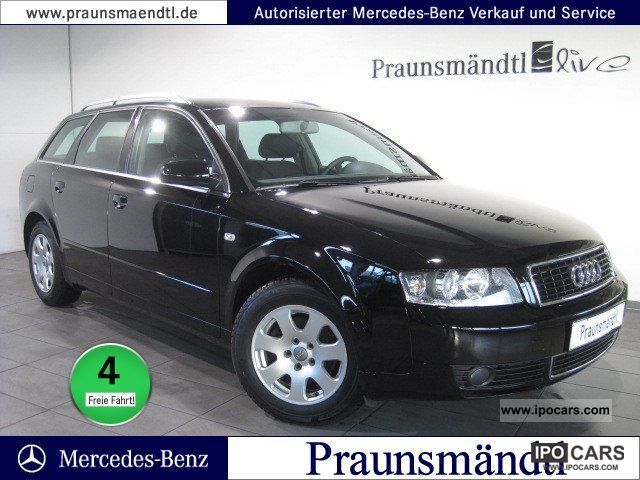 Uploaded by maraz-m-moroz



Model ID
Manufacturer (Make)
Audi
Model Name
A4 2.0 Avant Climate / LMR / NSW / EFH.
Year
2005
Vehicle type
Estate Car
TECHNICAL SPECIFICATION
Engine Capacity
2L (1984 cm³)
Engine Power
96 kW (131 PS(Hp))
Fuel Type
Petrol
Gearbox
Manual gearbox
Climatisation
Automatic air conditioning
Emission Class
Euro4
Number of Seats
5
Door Count
4/5 Doors
Fuel consumption city
20 MPG (11.6 l/100km)
Fuel consumption highway
39 MPG (6.1 l/100km)
CO² Emissions combined
0.7 lb/mile (197 g/km)
Description
vehicle number b>: 014 900
site b>: Ingolstadt
Exterior b>:
alloy wheels li> integrated fog lights li> ul> Interior b>:
automatic air conditioning li> Front power windows li> cargo cover / shade li> ul> Security b>:
immobilizer (electronic) li> Anti-lock braking system (ABS) li> ul> comfort and the environment b>:
power steering li> central Remote control li> ul> Note: b>:
ACCESSORIES DATA WITHOUT GUARANTEE, changes, prior sales and errors reserved li> ul>! More b>:
third Brake light li> Fri airbag driver and passenger li> aspheric mirrors, left li> electric adjustable door mirrors li> Auss enspiegel convex, right li> Outside temperature display li> electron. Stability Program (ESP) li> luggage compartment separation (network) li> rear window wiperhe li> head airbag system (Sideguard) li> Kopfsttzen back (3x) li> Spare wheel for emergency li> shared Rcksitzlehne / fold li> Front passenger airbag li> Seat cover / upholstery: cloth phoenix li> grn tinted heat-insulating glass li> ul>
Estate Car
>>
Cars by Make
>>
Audi
>>
2005
A4 2.0 Avant Climate / LMR / NSW / EFH.
- Specs and Pictures